Sharing My Favorites: Fat Cyclist
So I've decided (in the last five minutes) that a "favorite" doesn't necessarily mean that they've stood the test of time. They can be labeled a favorite within minutes, seconds even if it comes to that. This won't happen often so don't get scared or excited. This blog was just too good not to share.
Fat Cyclist
started when Elden ("Fatty" as he's termed himself) needed motivation to lose weight.
Short story
shorter, he started a blog to post his weight publicly every day. Not wanting to just post his weight, he wrote stories to share too.
What's he up to now? Let him tell you:
Besides being a middle-aged guy who loves cycling, I'm also the father of four kids (2 boys, identical twin girls), and the husband of a woman — Susan — who is fighting metastatic breast cancer.
Even if you aren't into cycling, you'll probably still enjoy reading some about his family and his life. His energy is such, however, that you'd probably end up reading the cycling posts too! Love it!
Check him out and while you're there, maybe consider helping him raise money to fight cancer. All proceeds of the Team Fatty raffles this year go straight to the Lance Armstrong Foundation. What raffle?
Only the coolest/best raffle I've seen ... EVER.
Donating in increments of $100.00 could also land you one of these, made by Susan herself: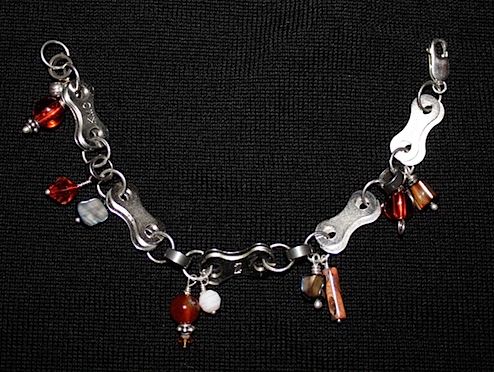 Remember Susan is the one battling cancer. Isn't that neat? I love, love, love the bracelets but what I love more is that she's able to make them. I also love that the money you put towards getting one goes to such an awesome cause.
Please do consider stopping by and at least offering up a word of support! With four kids and a sick wife, I'm sure every note of encouragement is appreciated - even if not each of them is read with full consciousness! :oP